New Epic Graphic Novel JURASSIC – Adventure During the Golden Age of Dinosaurs – Farcountry Press
From the mind of Ted Rechlin comes a thrilling new prehistoric adventure for all ages. Featuring epic action, stunning artwork and the return of the Brontosaurus.
Jurassic Author and Illustrator Ted Rechlin (Rextooth Studios) is becoming a king of the dinosaurs. "I just keep drawing them" says Rechlin. "I love getting the chance to show them as living, breathing creatures. I love knowing that people will read this and imagine how they might have behaved." Having already published Tyrannosaurus Rex and just recently completed Dinosaurs Live! The Ultimate Coloring Book, Rechlin's love and knowledge of the Mesozoic world shines in all his work.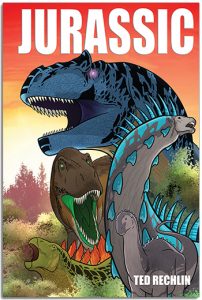 His newest release Jurassic, is a primeval adventure in animal behavior. Part nature documentary, part action epic, Rechlin welcomes readers of all ages to experience the golden age of dinosaurs. "One of my favorite parts of this time period is the sheer scale of these creatures," Rechlin says, "We have mega-carnivores like the Torvosaurus hunting prey alongside the massive and whale-sized Camarasaurus."
One of these giant-sized herbivores, and the central protagonist in Jurassic, Brontosaurus, has just recently come back into prominence thanks to new scientific discoveries. Years ago, the species had been downgraded and grouped as a subspecies of Apatosaurus, but recent findings confirmed that it was a distinct and valid species of sauropod. "Brontosaurus was one of my favorite dinosaurs as a kid," says Rechlin. "After paleontologists reconfirmed its existence as a species, I knew I wanted the book to feature a young brontosaurs' journey to become the 'thunder lizard' he was born to be."
Beautifully illustrated, packed with thrilling action sequences, the most up-to-date science, and a passion for the prehistoric world, Jurassic (ISBN: 978-1-59152-203-4, $19.95, Rextooth Studios, 2017) is available at local bookstores and gift shops, through online retailers, or from Farcountry Press at 1.800.821.3874, www.farcountrypress.com.
About the Author/Illustrator
Author and illustrator Ted Rechlin has been drawing pictures and telling stories since he was three years old. While his drawings have gotten much better, his stories haven't really changed much. They're still about superheroes, bears, wolves, sharks, monsters, and lots of dinosaurs. Ted feels very fortunate to live a life where he now gets paid to draw his pictures and tell his stories. He has contributed his work to many museums, zoos, and publishing companies like DC Comics and Dover Publications. With four of his own educational children's books under his belt, Ted is excited about his newest release distributed by Farcountry Press, the epic dinosaur adventure Jurassic.
For signings & interviews contact Farcountry Press 800-821-3874 or  [email protected]
About Farcountry Press
Celebrating over 35 years of publishing books, Farcountry Press is an award-winning, independent book publisher based out of Helena, Montana. Specializing in color photography books showcasing the nation's cities, states, national parks, and wildlife, Farcountry also publishes several popular children's series, guidebooks, cookbooks, and regional history titles nationwide.